The 67th AGM was held on Sunday 24th March 2019.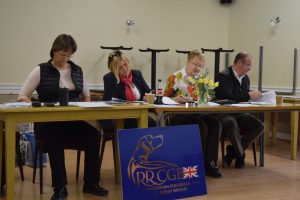 Thank you to all those that attended.
A presentation engraved gift was given to Mr John Woodrow (Mrs Ann Woodrow accepted it on his behalf) by RRCGB Treasurer Kerry Davies.  John retired in 2018 in being the RRCGB's accounts auditor for many years and the Club has been lucky to have him.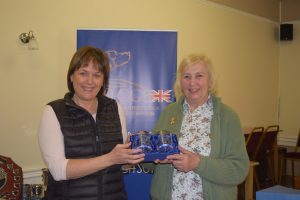 The 2 below trophies were awarded this year at the M&N RR Club AGM:
The Owlsmoor Trophy/The Cecily Hick Memorial Trophy for Top RR 2018
CH KINABULA BIN THERE DONE THAT
The Gunthwaite Trophy/The Rosie Bates Memorial Trophy for Best Opp Sex to Owlsmoor 2018
CH KITOKO WHEREVER YOU GO EIKO
The following trophies and awards were kindly presented by David Grayson Wood & Mrs Daphne Walch and thanks also to Robin Humphrey for kindly taking the pictures of our winners!
THE 66TH AGM WAS HELD ON SUNDAY 25TH MARCH 2018.
The following trophies and awards were presented:
The Owlsmoor Trophy/The Cecily Hick Memorial Trophy for Top RR 2017
CH KINABULA BIN THERE DONE THAT
The Gunthwaite Trophy/The Rosie Bates Memorial Trophy for Best Opp Sex to Owlsmoor 2017
CH HESPA HENRY HIGGINS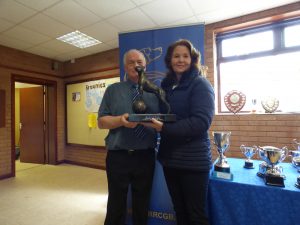 Shabani Salver – Best Dog/Bitch Owned by a Club Member 2017
CH KINABULA BIN THERE DONE THAT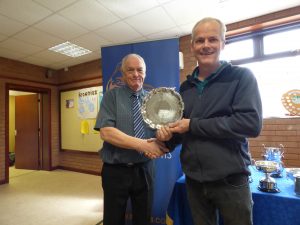 ANNUAL POINTS TROPHIES 2017
SHABANI TROPHY – BEST PUPPY DOG – CARLINCOX FIRST ENCOUNTER
ELSIE JACKSON TROPHY – BEST PUPPY BITCH – TOKWE GINVINCIBLE WITH MUTOKO
GEORGE MILLER CUP – BEST JUNIOR DOG – CARLINCOX FIRST ENCOUNTER
BRUET TROPHY – BEST JUNIOR BITCH – COLKERIRIN FACE TO THE SUN JW ShCM
TARHAAN KIPITAL OF NYASSA TANKARD – BEST YOUNG DOG 18-3YRS  – FAAHAC FREE N EASY JW
UMHLANDLA IDAYIMANI MEM CUP – BEST YOUNG BITCH 18-3YRS – CH SHINGWIDSI TSHADI ROSE
SUNTRACKER SALVER  – BEST DOG 3-5YRS – NO CLAIMS
SUNTRACKER SALVER – BEST BITCH 3-5YRS – NO CLAIMS
MIRENGO'S MOJOMO OF OSEBENI CUP – BEST OPEN DOG – CH EILACK KITO KIJANI JW SHCM
MATABELLE TROPHY – BEST OPEN BITCH – NO CLAIMS
SUNTRACKER SOVEREIGN TROPHY – BEST LIVER NOSE D/B – FAAHAC FREE N EASY JW
MKISHI'S MKHLEKAZI SHIELD – BEST DOG OR SIRE OR DAM IMP – CH HESPA HENRY HIGGINS  JW
GUNTHWAITE SHIELD – BEST BITCH SIRE OR DAM IMP – CH SHINGWIDSI TSHADI ROSE
THE JANAK MARIE TROPHY  – TOP VET/SPEC VET – CH KIROMOL KUBWA MNO ShCM
HACKER CUP –  MOST CONSISTENT WINNER DOG – FAAHAC FREE N EASY JW
LITTLE OWLSMOOR TROPHY – MOST CONSISTENT WINNER BITCH – CH SHINGWIDSI TSHADI ROSE
ALDONNELS SHIELD  – TOP STUD DOG – EILACK KAAN
RAGSTONE SHIELD – TOP BROOD BITCH  – CH KIROMOL TALLULAH BELLE JW
LOUSTIGEN TROPHY – TOP BREEDER – KIROMOL KENNEL
CHAMPIONSHIP SHOW TROPHIES 2017
STANFORD DEBUSLI CUP – BOB CRUFTS – MIRENGO'S MANGULA
HARTFORD TROPHY – BEST OPP SEX CRUFTS – MUTOKO'S LLEDWENAU LOWRI JW
STANFORD DEBUSLI CUP (NOVICE) – BEST PUPPY CRUFTS – SOFALA SMART JAZZ AT SANSILVER
EILACK CUP – BOB WELKS  – KIROMOL KENDI JW
MENTAMERY TANKARD – BEST OPP SEX WELKS – CH DIAMONDRIDGE DA VINCI JW
CHERYL JEANNE MEM TROPHY – BOB BIRMINGHAM NAT – CH KIROMOL MIDSUMMER SPIRIT JW
BIZWENI CUP – BOB BATH – CH KINABULA BIN THERE DONE THAT
THE LEX TROPHY – BOB THREE COUNTIES – (NON MEMBER)
SALIYA TROPHY  – BEST BITCH THREE COUNTIES  – CH KINABULA BIN THERE DONE THAT
RHOSAF TROPHY  – BEST DOG THREE COUNTIES – (NON MEMBER)
SANSILVER TROPHY – BOB WINDSOR – (NON MEMBER)
RAGSTONE TROPHY – BOB EAST OF ENGLAND –  CH JOCKULAR LORD LEONTI AT TSJAKKA (IMP NED) JW
JASON CUP  – BOB LEEDS  – CH  SHINGWIDSI TSHADI ROSE
JASPER OF GRAYHAVEN CUP – BEST DOG HOUND SHOW – CH KIROMOL KINDERED SPIRIT
JUNIPER OF GRAYHAVEN – BEST BITCH HOUNDSHOW  – CH KINABULA BIN THERE DONE THAT
BENNINGHOE CUP – BOB WELSH KENNEL – CH HESPA HENRY HIGGINS JW
ARTHUR GOULD TROPHY – BOB CITY OF B'HAM – CH KIROMOL KUBWA MNO JW ShCM
RHODA TROPHY – BEST OPP SEX CITY B'HAM  – CH SHINGWIDSI TSHADI ROSE
STANFORD DEBUSLI CUP – BOB LKA  –  CH KINABULA BIN THERE DONE THAT
---
Trophy Presentation after the 2017 AGM