RRCGB OPEN SHOW 2018 RESULTS
JUDGE: MRS KAREN BARNARD (TSJAKKA)
BEST IN SHOW & BEST VETERAN IN SHOW: ZOUGANI ZURI ShCM
RESERVE BEST IN SHOW: CH KIROMOL MIDSUMMER SPIRIT JW
BEST PUPPY IN SHOW: DIAMONDRIDGE ROLL THE DICE
PLEASE CLICK ON THE BELOW LINK FOR THE 2018 OPEN SHOW CRITIQUE:
Class: 1- MINOR PUPPY DOG (2:1 abs)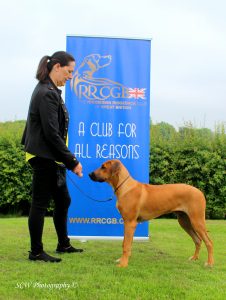 1st OZUBI'S PILGRIM AT KONDWANI
Class: 2- PUPPY DOG (2)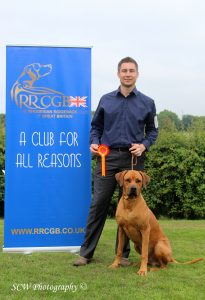 1st PRIORPARK PIPIT
2nd PRIORPARK JABARI FOR NZURI
Class: 3- JUNIOR DOG (4)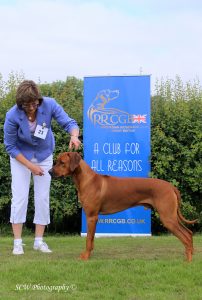 1st GUNTHWAITE PAPA DONT PREACH
2nd KIJIVUS KARDANO
3rd GUNTHWAITE'S MOON STORM
Res MATSUSHONA FIRE OPAL
Class: 4- YEARLING DOG (3)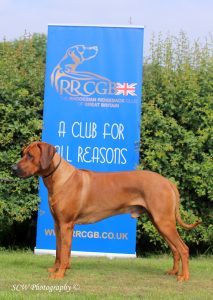 1st Gunthwaite's Moon Storm
2nd CARLINCOX FIRST ENCOUNTER
2TAMBYSSA'S TEASE
Class: 5- NOVICE DOG (0)
Class: 6- POST GRADUATE DOG (1:1 abs)
Class: 7- MINOR LIMIT DOG (4)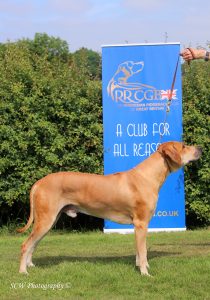 1st KIROMOL KAMANGA
2nd CARLINCOX FIRST IMPRESSION JW
3rd FIADMA JORGE KAHAWIA
Res KIFANI'S LOKI BY INO WITH ISIQA (IMP NO)
Class: 8- LIMIT DOG (2:1 abs)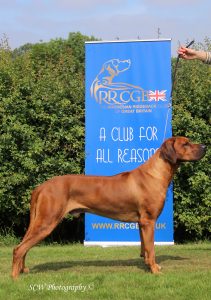 1st KIROMOL KINDRED SPIRIT ShCM
Class: 9- OPEN DOG (5:1 abs)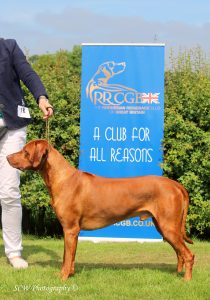 1st FAAHAC FREE N'EASY JW ShCM
2nd SHOMBAY DARK KNIGHT RISES
3rd CH EILACK KITO KIJANI JW ShCM
Res KANI AKILAH ENCANE HASANI FOR JENGACHENGA (IMP NED)
Class: 10- SPECIAL BEGINNERS DOG (3)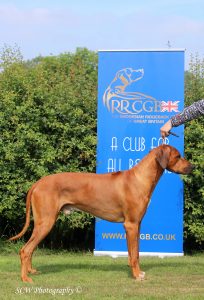 1st DIAMONDRIDGE DISTANT DANCR
2nd Carlincox First Encounter
3rd Matsushona Fire Opal
Class: 11- VETERAN DOG (8:2 abs)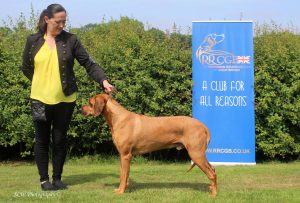 1st ZOUGANI ZURI ShCM
2nd CH KIROMOL KUBWA MNO JW ShCM
3rd CH KELSHANTI SENATOR OF AFRICANER JW ShCM
Res CH ZENZELE'S CHASE THE ACE JW
VHC DIAMONDRIDGE BELLADONIS
Class: 12- SPECIAL VETERAN DOG OR BITCH (2)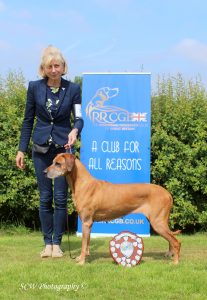 1st CH/AM GR CH VELDTKAMMER ASSLE ME LITELY
2nd TAMBYSSA'S KHAMSIN
 BEST DOG: ZOUGANI ZURI ShCM     RESERVE BEST DOG: FAAHAC FREE N'EASY JW ShCM   BEST PUPPY DOG: PRIORPARK PIPIT
Class: 13- MINOR PUPPY BITCH (5:1 abs)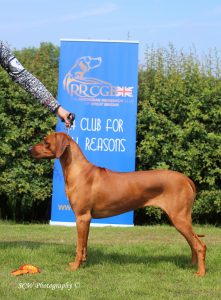 1st DIAMONDRIDGE ROLL THE DICE
2nd OZUIB'S PATIENCE
3rd LEEURIF JUKEBA MSHANGAO TATU AT SUHUBA (IMP GRC)
Res MUTOKO'S BLAZE OF GLORY
Class: 14- PUPPY BITCH (5)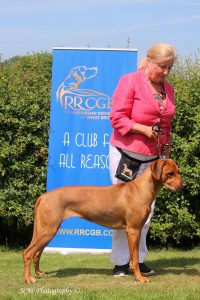 1st DIAMONDRIDGE DREAM CATCH ME
2nd Mutoko's Blaze of Glory
3rd PRIORPARK PIPSICLE
Res NEGASI CELEBRIAN
Class: 15- JUNIOR BITCH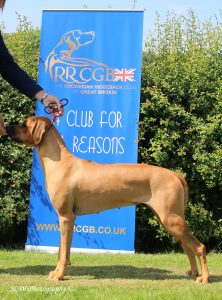 1st TOKWE TRULY GINTASTIC
2nd RIORPARK PIPSQUEAK
3rd LYNBOBO LADY OF THE FAIRY LOUP
Class: 16- YEARLING BITCH (7:2 abs)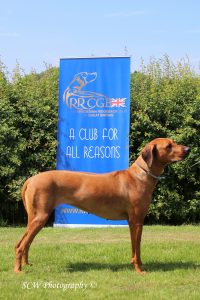 1st SOFALA SMART JAZZ AT SANSILVER
2nd TOKWE GINVINCIBLE WITH MUTOKO
3rd NUTHOUSE SOME LIKE IT HOT
Res JENGACHENGA DESPICABLE ME
VHC TAMBYSSA'S TANSY
Class: 17- NOVICE BITCH (1)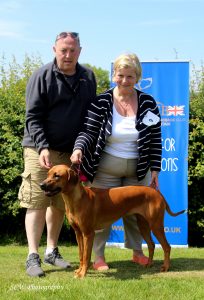 1st Lynbobo Lady of the Fairy Loup
Class: 18- POST GRADUATE BITCH (5)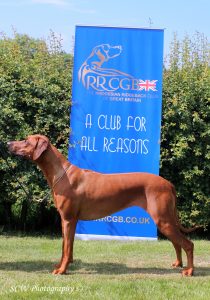 1st SANBONA A'FRICAN SOUL DAACI AT SUHUBA (IMP DEU)
2nd TOKWE TRULY TICKETY BOO
3rd KIJIVU'S KABISA
Res JIMANNS SADLY SOBER AT KONDWANI JW
VHC KENQUINCE PISCONIA
Class: 19- MINOR LIMIT BITCH (3:1 abs)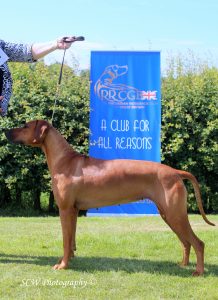 1st NUTHOUSE HOT STUFF
2nd UMHLANDLA UMPHEKI
Class: 20- LIMIT BITCH (7:4 abs)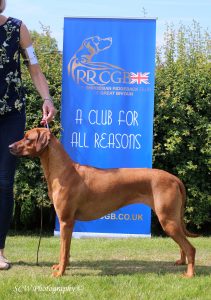 1st COLKERIRIN FACE TO THE SUN JW
2nd TAMBYSSA'S ATHENA
3rd FIADMA MRS CLAUSE NYEKUNDO
Class: 21- OPEN BITCH (9:5 abs)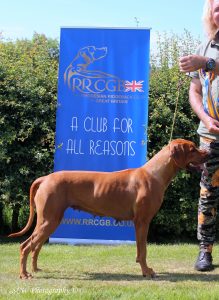 1st CH KIROMOL MIDSUMMER SPIRIT JW
2nd MUTOKO'S LLEDWENAU LOWRI JW
3rd NUTHOUSE ROMANCE
Res KIROMOL KENDI JW ShCM
Class: 22- SPECIAL BEGINNERS BITCH (1:1 abs)
Class: 23- VETERAN BITCH (7:3 abs)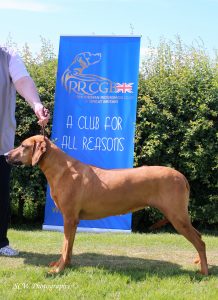 1st NEELANJALI PREMIER ROSE AT LILONGWE
2nd CH MAKIBOS KILIMALEMRIKA OF NEGASI ShCM
3rd ROCKRIDGES AUSTRALIA'S FINEST AT MARONDERA
Res ISIQA'S GIGUERE
BEST BITCH: CH KIROMOL MIDSUMMER SPIRIT JW    RESERVE BEST BITCH: MUTOKO'S LLEDWENAU LOWRI JW   BEST PUPPY BITCH: DIAMONDRIDGE ROLL THE DICE
Class: 24- BRACE 1st Nash   2nd Taylor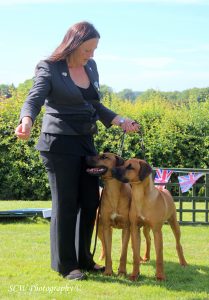 Class: 25- PROGENY 1st Priorpark Aphrodite JW      2nd TOKWE TRULY SCRUMPTIOUS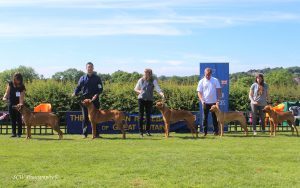 SPECIAL AWARDS CLASSES
It was a pleasure to be asked to come along and judge your Special awards Classes,  I would like to thank everyone one the Committee who made me welcome on the day.  What a wonderful venue and it was such a warm sunny day too.    Thank you to all the exhibitors e who gave me great pleasure judging your lovely dogs, shown in such lovely condition.  28 dog's total entries was amazing.   I thoroughly enjoyed myself.  I have been in love with the breed very many years and I hope to see you all around in the future.
Special Award Junior Dog or Bitch
1st Nash's Mutoko's Blaze of Glory 8 months old Bitch puppy.  Lots to like about this young promising bitch. Good head and pleasing expression, nice neck and good topline & tailset.  Good angulation front and rear. Presenting a good overall picture of the breed, she moved out with drive around the ring. Handled nicely by her handler.
2nd Nash's Torkwe Ginvincible with Mutoko 16mths bitch.  Another nice bitch shown in good condition, good pleasing head, correct eye and ear carriage, good front, nice topline and tail set with nice angulation.  Handled and moved well.
3rd McGimpsey & Catley's .  8mths old Diamondridge Roll the Dice completes my trio of lovely bitches.  Pleasing head, good expression, nice body shape and good angulation, carried herself well when moving around the ring.
Res Kijivus Kardano
VHC Priorpark Pipsicle
Special Award Open  Dog or Bitch
1st Deacon & Wildings Kiromol Kindred Spirit Sh.CM.  Red wheaten dog of substance , good masculine head and expression,  strong neck leading into a firm topline, good depth of chest and brisket.  Angulation front and rear correct with good muscle definition.  Moved with drive and purpose caught my eye on entering the ring.
2nd Catharells Faahac Free and easy.  Red wheaten dog.  Handsome standard size dog with liver nose and god pigment. Strong neck leading into a good toplineand tailset.  Correct angulation front and rear nice feet. Moved effortlessly around the ring hard decision between 1st and 2nd.
3rd Grays Kijivu's Kabisa Femine attractive head on this girl, with a pleasing expression,  Good neck & strong topline, good front and rear angulation, a little unsettled in the beginning.  Good overall picture of her standing, Moved with drive around the ring.
Res Kenquince Pisconia
VHC Shombay Dark Knight Rises
Special Award Champion Dog or Bitch
What a pleasure and honour to be able to go over so many champions today all deserving places.
1st Story & Piehl's   Ch Kiromol Midsummer Spirit  JW.  3yr old bitch in great condition, pleasing correct head, a good strong neck, good shoulder angulations strong topline. Good depth of chest, lovely straight front.  Correct angulation and good straight hocks, moved with drive presented and handled well. Gleaming coat.  My first three winners of this class could change places any day.
2nd  Mackfalls   Ch Kelshanti Senator of Africaner JW ShCM.  This 8yrs old upstanding dog caught my eye, nicely constructed dog with good bone.  I didn't realize he was a veteran until writing his critique.  Lovely masculine head, a good strong powerful neck, correct shoulder, deep chest and lovely correct angulation front and rear. He moved with ease yet powerful drive showing off his good muscle tone.  Handle to perfection.
3rd Barnes Ch Diamondridge Da Vinci JW.  A 4.5 yr old male larger built than 2nd dog This boy has a good masculine head yet kindness in his eyes, Has similar attributes to 2nd dog.  I just preferred movement of 2nd place dog on the day.
Res Ch Zenzele's Chase The Ace JW
VHC Ch Kiromol Kubwa Mno JW ShCM
Judge Jeanne Walker (Baikel)